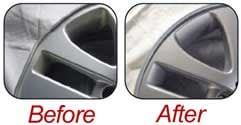 Reconditioning begins with a visual inspection of the wheel for cracks and bends. Once it is determined the wheel is repairable, the wheel is reconditioned using a three step method designed to restore the wheel to its pre-damaged finish.
    Like new finish at a fraction of the cost of a new wheel!
    Removes unsightly oxidation, curb rash, and discoloration!
    Best color match in the industry!
    Limited Warranty against corrosion and peeling!